A pylon sign is a stand-alone structure, which can typically be found out the front of a business. Today, more and more businesses around Australia are embracing this versatile style of signage.
Petrol stations use pylon signs to advertise their fuel prices and specials, shopping centres use them to advertise individual shops within their centre and stand-alone businesses use them, to ensure they're not missed by the public.
But what style of pylon sign is right for your business? Here's what you need to know.
What exactly is a pylon sign?
Before we get into which pylon sign is right for your business, let's start with the basics. A pylon sign is a tall, stand-alone structure, which tends to be located outside the front of a business or site.
There are three main kinds of pylon sign:
The covered monolith pylon sign – the style typically found at petrol stations. It's covered or clad, which means you cannot see the structural supports. It's also very large.
Single pole pylon sign – this style of pylon sign is ideal for high-rises. They're affordable and efficient to manufacture and install, while still being prominent to anyone passing by.
Twin pole pylon sign – this pylon sign is perfect for signs that need many different panels. They're also cost effective, relatively easy to construct and incredibly eye catching.
Which pylon sign is right for my business?
Now you know the different styles of pylon sign, it's time to dig into which style would work best for your business. In general, a pylon sign is perfect for businesses that:
Want to be easily seen by passing traffic.
Would like to stand out from similar businesses in the area.
Prefer quality signage, built for longevity.
Want to showcase their branding and design work.
Value portraying a professional image to their customers.
No matter which style of pylon sign you choose, all will achieve the benefits listed above. Of course, certain pylon signs will match your business better than others.
The covered monolith pylon sign
If you want a pylon sign that's going to be noticed, the covered monolith pylon sign is it. They're often used at large warehouse stores, like Bunnings, Spotlight or JB HiFi, but are also just at home at smaller locations.
These versatile pylon signs can really be used for any style of business, and can be tailored to suit the aesthetic of your location.
For example, if you operate a one-storey medical facility, your pylon sign can be manufactured to a height and width that complements the size of the building, while still being large enough to be seen.
Covered monolith pylon signs are also one of the more aesthetically pleasing forms of pylon sign, as they are completely clad, which means the internal structure cannot be seen from the outside.
Verdict: Monolith pylon signs are for any business that wants to be noticed.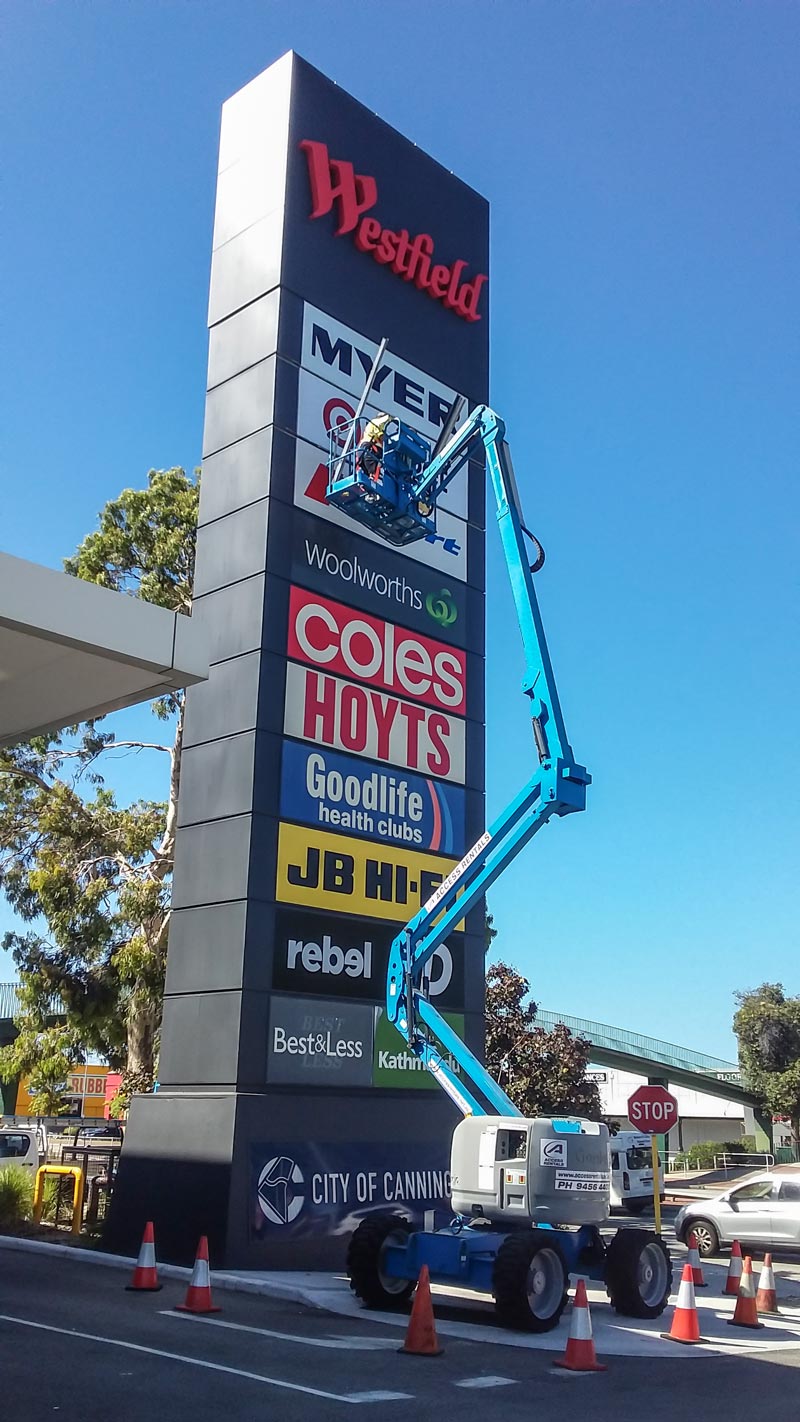 The twin pole pylon sign
As the name suggests, the 'twin pole' pylon sign has two poles, which can showcase multiple signs at once. For this reason, shopping centres or complexes with multiple businesses inside, tend to prefer this style of signage.
The twin pole pylon sign is versatile, as each business can have its own sign, with its own branding and design aesthetic. It can also be customised to the height and size that matches your location the most.
If a business leaves the premises, their signage can be easily removed and replaced with a new tenant. This makes the twin pole pylon sign a smart and dynamic investment for multi-business locations.
Verdict: A versatile option for locations with multiple businesses.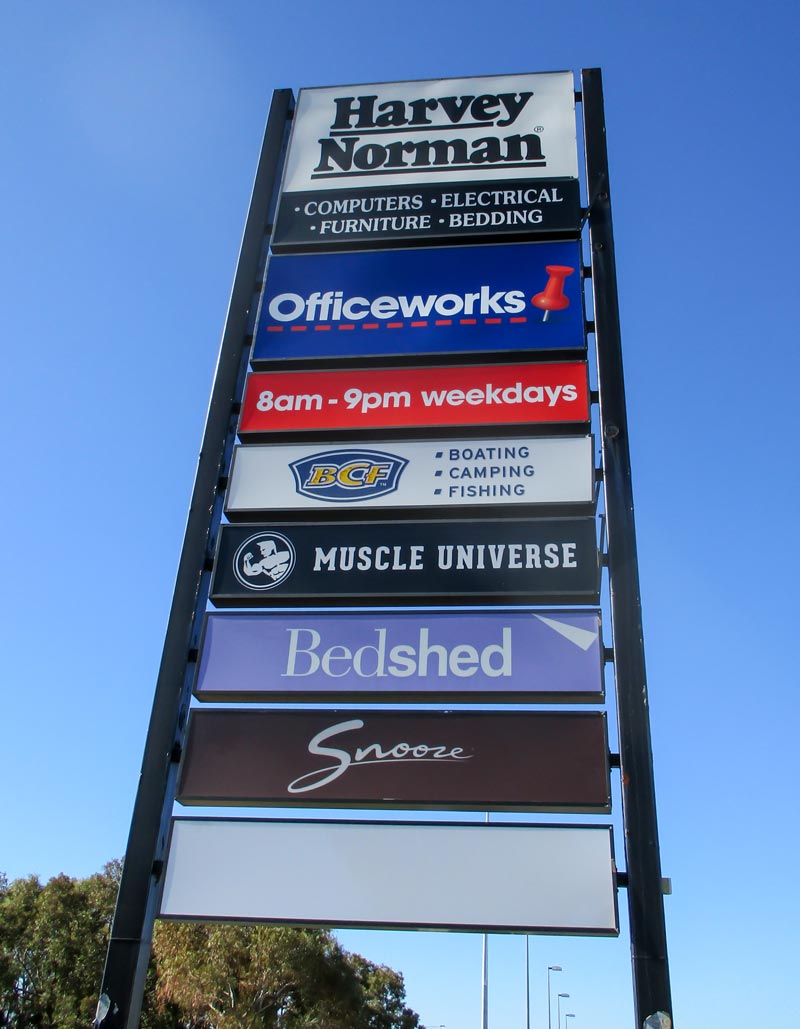 The single pole pylon sign
Single pole pylon signs may not look as commanding as the monolith pylon sign, but they're still a firm favourite of many businesses in Australia. In fact, the single pole pylon sign is probably one of the most common pylon signs in the pylon family.
This style of signage consists of one pole, with a sign positioned at the top. It can be made as tall as you require, and therefore can often be seen from quite a distance. As such, it's still an incredibly eye-catching sign.
Businesses who have a slightly lower budget, and want something a little simpler than the monolith are likely to choose the pylon sign. They're great for businesses of any style, and the signage itself can be manufactured in different shapes and sizes.
Verdict: Eye-catching signage for single businesses on a budget.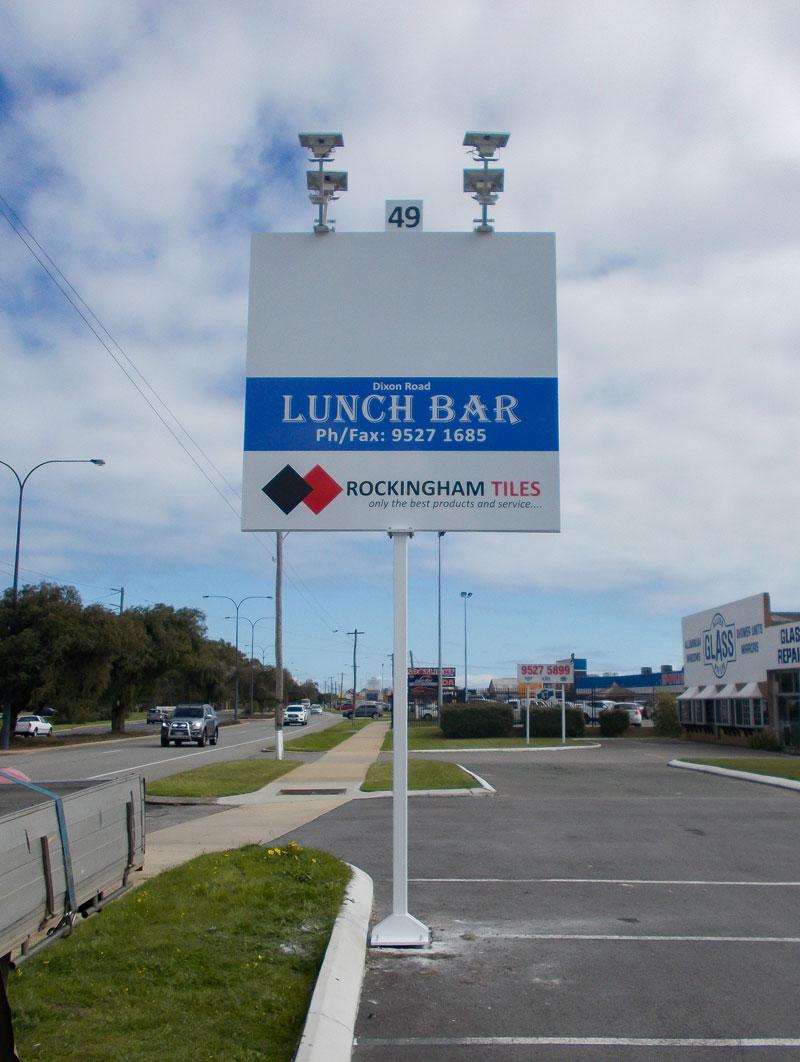 Want to know more about pylon signs?
If you'd like to know more about what style of pylon sign is right for your business, please get in touch. Our signage experts are happy to discuss your requirements, and offer recommendations based on your needs and budget.