Digital signage showcases graphics or video content on displays of any size – from gigantic walls to smaller screens. It's versatile, eye catching and it's an investment in your business.
Here's why.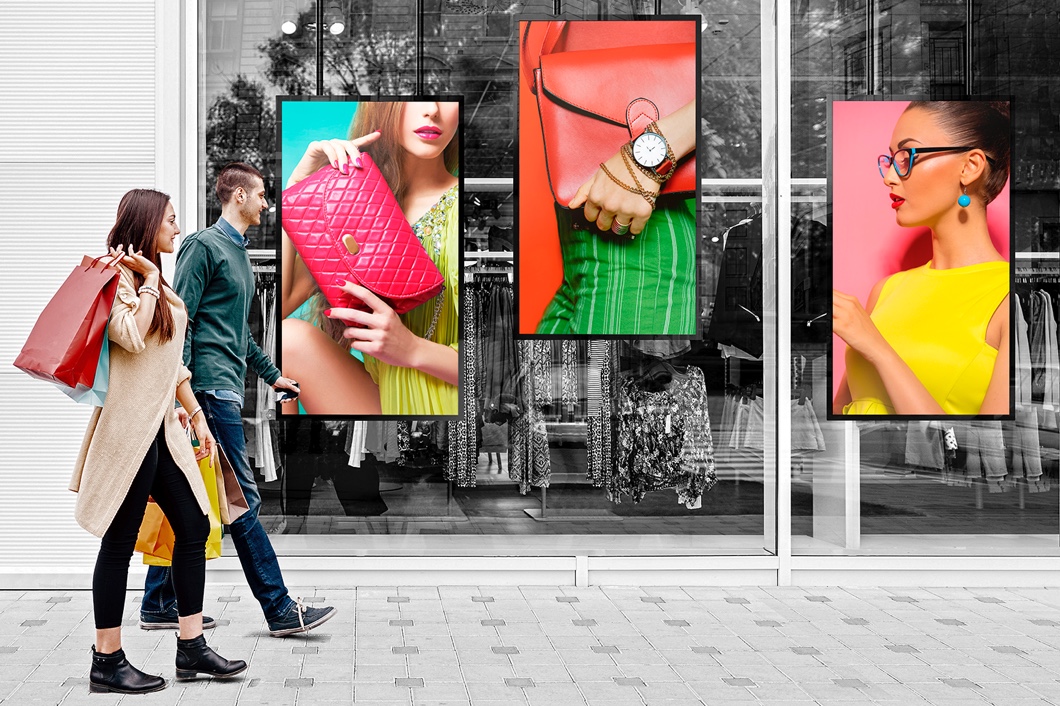 1. Your customers can help themselves
Studies show improving the shopping experience for your customers increases the likelihood of them returning to your store. If you have customers waiting around for service, they are less likely to be satisfied and probably won't return.
Digital signage allows customers to engage with your brand and make purchases, even when they're not with a physical employee. Self-service options allow the customer to get what they want, while lowering pressure on your staff.
Research shows 67% of customers actually prefer self-service to speaking with an employee in person. It turns out, global consumers are becoming more and more tech-savvy, and they expect businesses to get on board too.
The good news is that setting up and installing digital signage – for self-service or simply to share information more efficiently at your location – is not difficult. And by doing so, you'll make customers happier, and more likely to return.
2. Digital signage is versatile
Designing and installing a new sign every time your services or products change is time consuming and expensive. Stagnant signage has many limitations, which is why more and more forward-thinking businesses are embracing digital signage.
A key reason why is versatility. Most digital signs use rule-based software, which allows you to program displays to suit the needs of your business. For example, a coffee shop may need to change its display from morning to afternoon prices.
A bar may need to update prices during happy hour or a retail store may want to display sale information on a particular day. Using rule-based software, businesses can pre-program when this information changes and when.
3. Digital signage turns heads
Digital signage doesn't just have to be used in-store to improve customer experience. It can also be located outside your site to attract people passing by. The data supports what we're saying too.
According to Intel, digital signage captures over 400% more views (on average) than signs that are static. Unlike static signs, digital signage leverages the power of motion to attract attention.
Motion isn't the only reason people are more likely to pay attention to digital signage. Research says unexpected changes in the direction of graphics on a sign work too.
So, if you want people to look at your digital signage, consider changing the direction of your signage graphics to get the attention you want.
4. Higher retention rates and recall
Many businesses want their digital signage to encourage shoppers to take some kind of action – whether it's making a purchase, ordering an item or following a direction. Sometimes, their objective is to share information about things like sales or events.
Digital signage that incorporates video is more readily recalled than adverts that are static. A study on the impact of digital billboards found that of all participants:
83% recalled at least one single digital advert they saw in the past month.
65% recalled two digital adverts seen in the past month.
47% recalled three digital adverts viewed over the past month.
On top of this, nearly 20% of the people studied then spoke about the digital billboard advert to another person, which then spread information about the business further.
5. Digital signage is easy to install
Installing digital signage in your business is easier than you may think. Our signage professionals can recommend operating systems and display options that suit the needs of your business and your budget.
We have installed digital signage in businesses all over WA and the NT, and are happy to answer any questions you may have about boosting your business with digital signage.