Sign Here Signs was engaged to perform a complete signage revamp at Event Cinemas in Innaloo.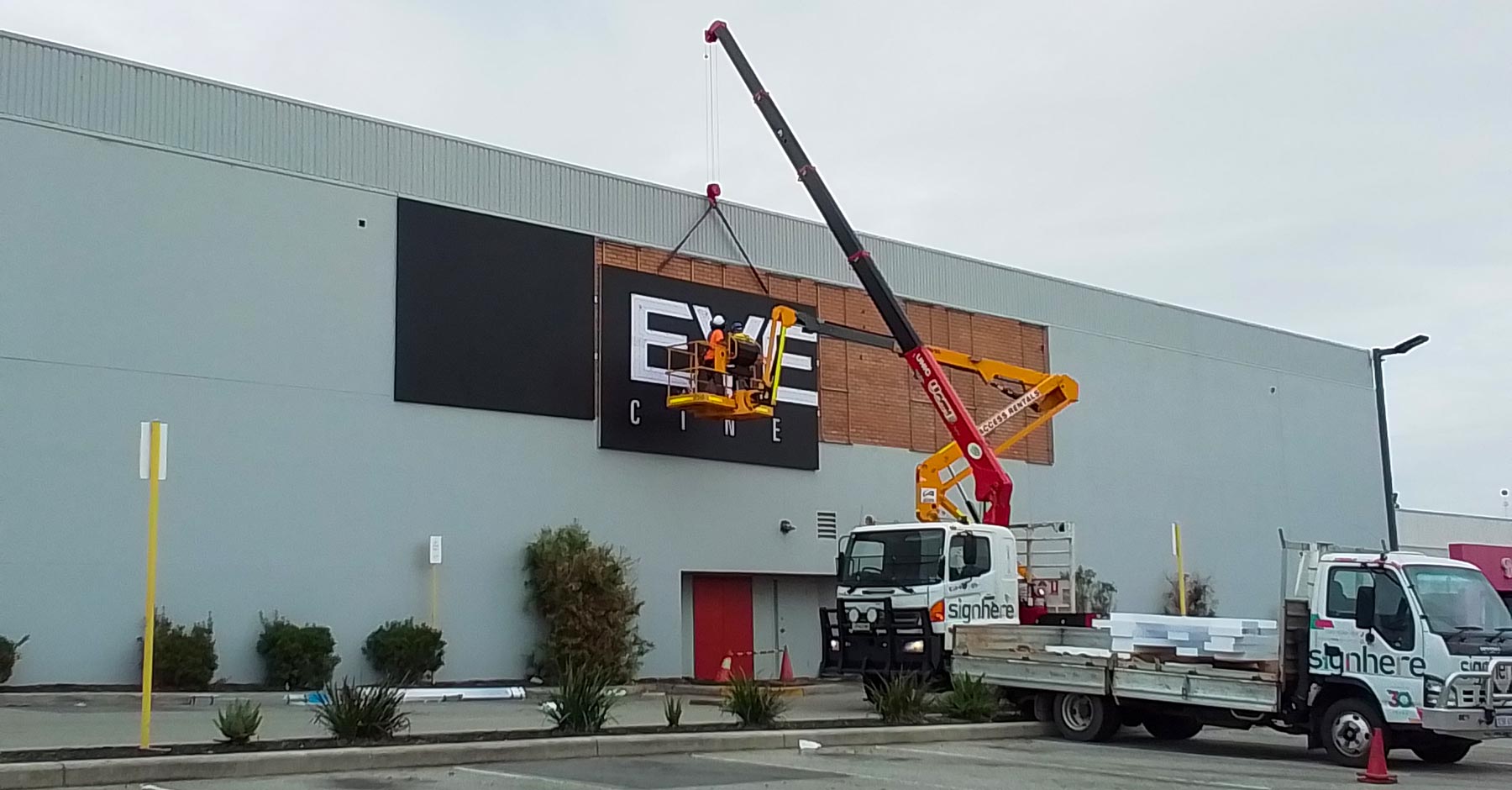 Unita Shopfitters and Event Cinemas commissioned our signage experts to manufacture and install new signage throughout the interior and exterior of the WA cinema complex.
The project required us to engage a number of different signage specialities, including traditional sign writing, fabricated lettering, halo illuminated signage, and even a rope neon sign.
Today, we're delving into what it took to get the project done right.
Scope of works
The entire signage project was split into two parts – internal and external signage.
Part 1: Internal signage work
Manufacture and install new cinema numbers – 50mm deep, plastic fabricated letters that were also internally illuminated.
Fabricate and install Gold Class cinema numbers – made from translucent gold vinyl, which need to be sourced from Germany.
As part of the interior signage work, we also performed a complete fit out of the confectionary stand. This included:
Traditional signwriting – on the wall of the confectionary area for a retro aesthetic.
A custom lightbox – made at two depths for a stepped look, with push through lettering.
A Coca Cola sign – made from rope neon, for an eye-catching vintage look.
Plastic fabricated letters – created using a 2-Pak spray painting finish.
A circular lightbox – fabricated in-house using plastic, to mimic a moulded acrylic face.
Stainless steel fabricated letters – manufactured in-house by our talented signage techs.
Two halo illuminated V-Max signs – custom-made, using brushed aluminium, then left with a raw finish.
Two lightboxes – designed to look like vintage cinema fronts, featuring individual letters on clear acrylic. This allowed the cinema to easily change films whenever they wanted to.
Wayfinding signage – manufactured and installed throughout the entire cinema, so people could easily find amenities, emergency exits, and the right cinema.
Part 2: External signage work
Foyer signage – fabricated using 30mm aluminium letters.
Replaced old 20 metre framework – with a brand new 20m x 3.5m fabricated frame. New illuminated letters were flush mounted to the panels and the whole frame was clad in fire retardant panels, which were wrapped in stain black.
Double sided illuminated car park sign – the face of both front panels were replaced with 4.5mm opal acrylic panels. The lightbox and pole were sanded and touched-up in satin black to match the existing signage.
The illuminated pylon – was refurbished, which meant replacing LEDs that were not working and swapping four flex face banners with new vinyl graphics.
An all-star cast of signage experts
We had 20 signage experts working on this project, including our project manager, managing director, and a six-person install crew. Our in-house electrician and in-house spray painter were also on the job, as well as two sign writers, sheet metal workers, and admin legends who took care of tasks behind the scenes.
Signage for the entire job was fabricated in just over six weeks, using machinery within our Malaga facility. Internal signage took approximately seven days to install, while external signage was rolled out in three phases. Each phase took two to three days in total.
Interesting facts about the Event Cinemas signage project
This particular project required us to engage a number of different signage experts – including an old-school signer writer, who had the skills to craft retro-looking signage that embodied the nostalgic cinema experience of days gone by.
In a more practical sense, we also had to make sure the external signage had a Group 1 Fire Rating. This was factored into all of the signage we fabricated and installed outside of the cinema, to ensure strict fire safety standards were met.
Another interesting challenge was installation. Event Cinemas did not close for the signage installation, so we needed to be able to work around busy operating periods. Our team was able to do this, while making sure the project was finished on schedule and within budget.
That's a wrap!
If you'd like to know more about how we design, manufacture and install signage for cinemas, and other great businesses in Western Australia, please get in touch. We'd be happy to discuss how we can create the right signage for your site.