Choosing the right sign company doesn't have to be hard work. We've blogged our three top tips for finding your perfect match.
If you're moving to a new building or opening a brand-new business, then choosing the right sign company is an important decision that needs to be made early on.
After all, great signage is an excellent marketing tool – it builds brand recognition with the public and reinforces the brand personality you're looking to convey. Design, as well as quality manufacture and installation, all play a big part in making this happen.
Luckily, finding the right sign company doesn't have to be hard work. We've blogged our top five tips for getting it right.
1. Check out reviews
Word of mouth is one of the most reliable and efficient ways to find services and products. In the old days, this was Joe Blow sharing their positive experience over a barbeque lunch.
These days, social media and online review sites are the most efficient word of mouth systems of all. When you're looking for a sign company, we recommend first Googling the name to see if anything comes up.
Then, dig a little deeper.
Check out their Facebook page and Google reviews to see what people have said. If reviews trend positive, this is a good sign. If there are a high volume of negative reviews, steer clear.
Be sure not to rely on reviews on the business's website. Even though these are probably true, they're only going to show the good stuff. It's pretty difficult to remove a negative review on Google or Facebook review, so if they look good, chances are the sign company is doing good stuff.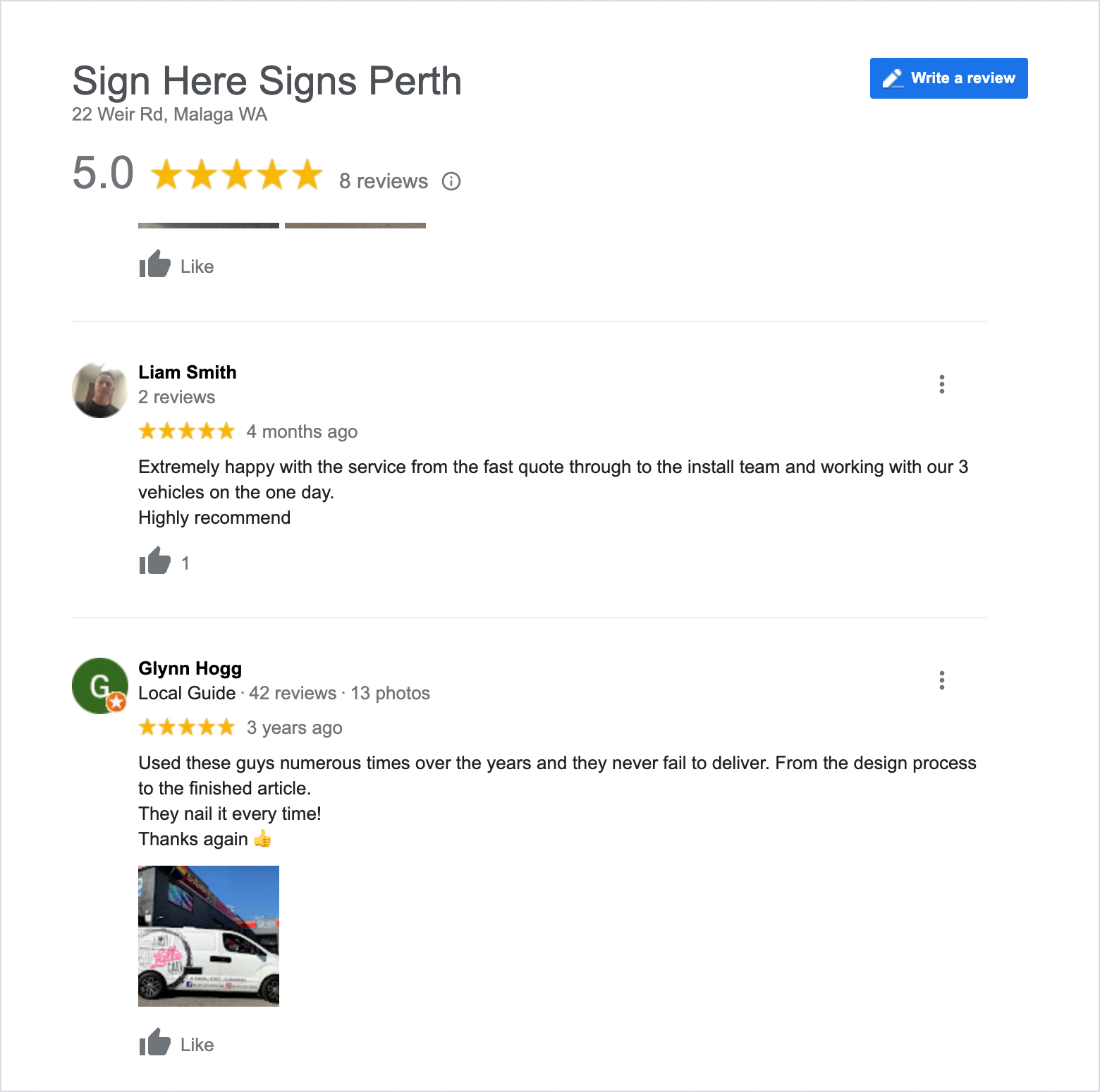 2. Get three quotes
Securing at least three quotes is a good way to see what your job is likely to cost. Just be aware that the cheapest quote is not necessarily always the best, as the sign company may be compromising on quality materials, or cutting corners in other ways.
This is why each of these three tips should be considered in balance with the rest. If the sign company with the cheapest quote has poor online reviews, don't go there. You'll only end up spending more, when the signage needs to be replaced prematurely.
When you're asking for a quote, consider asking the sign company to send through samples of previous work they have completed, which is similar to what you are looking to have done.
3. Speak to the sign company
A good sign company will spend time understanding your requirements, and they'll be professional to deal with. If you're struggling to communicate with the people who work at the sign company, this will probably translate into signage you're not happy with.
If you're a design agency, an architect or anyone performing work on behalf of a business, then having a smooth and hassle-free working relationship will make life a thousand times easier. So, if you're not gelling with the sign company staff, bail ASAP.
A sign company that takes pride in their work and service should also be open to sharing recommendations that match your needs, and honour what you want to achieve. If you feel like you're being upsold to, move to the next sign company on the list and find people who get what your business is about.
Talk to us
We are proud to have longstanding working relationships with agencies, building companies, architects and business owners all over Western Australia. If you'd like to talk to us about your signage, please get in touch.