Sign Here Signs was engaged to design, fabricate and install lightbox signage for Weir Minerals – a global market leader in the engineering industry. The lightbox now lives at Perth Airport and is wired with more than 1,000 LEDs!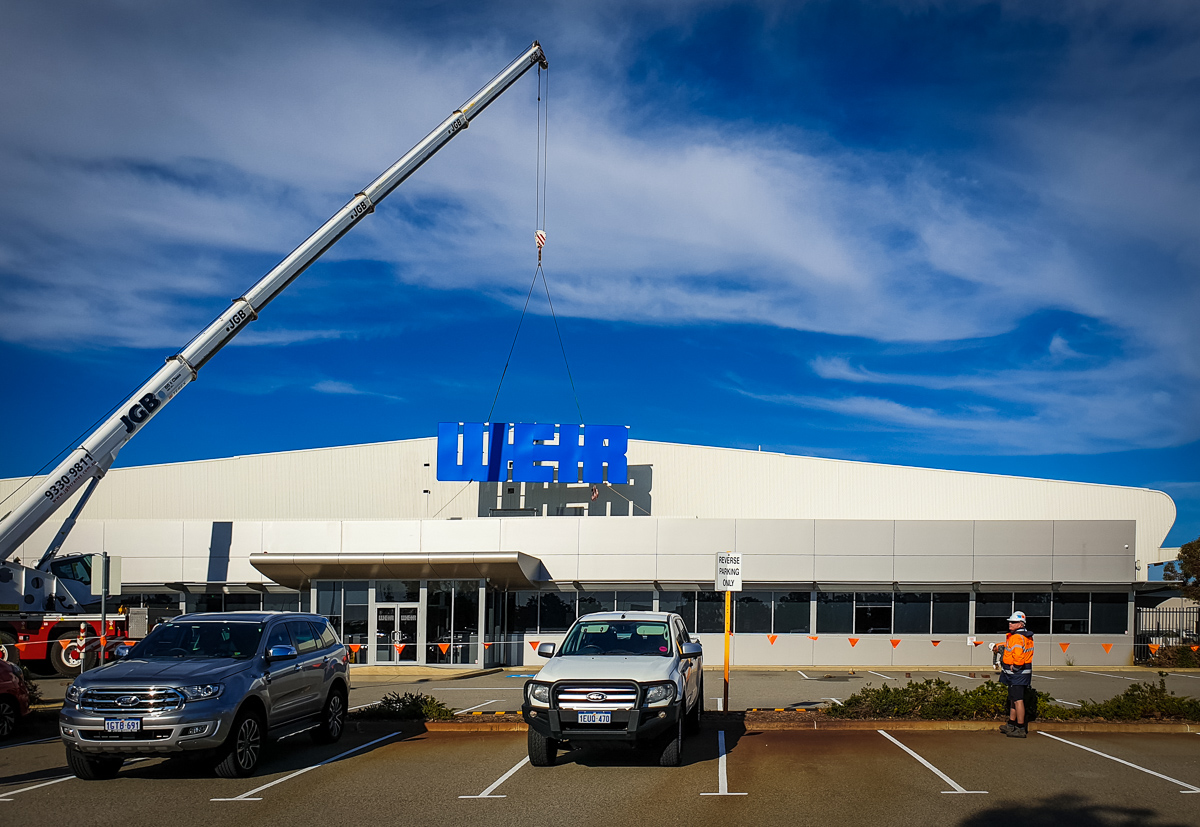 We have a whole lot of pride in the work we do, which is why we're excited to share a project we recently completed for one of our amazing clients, Weir Minerals.
The job in question involved a specialist team of fabricators and installers, as well as more LED lights than a Christmas Tree in Times Square.
Spoiler alert, our team finished the project on time and on budget, and we think the result looks pretty great. Here's the inside story.
Scope of works
Sign Here Signs was commissioned to install fresh lightbox signage at Weir Minerals' brand-new HQ at Perth Airport.
The scope of the project involved designing and fabricating lightbox signage, which stood at a mighty 10 metres by 3 metres in size.
Our team was also responsible for installing the lightbox to roof sheeting, which meant the signage needed to be engineered and reinforced for safety.
No matter what size a sign may be, safety is of the utmost importance to us. For this reason, our team always takes expert care when engineering structures and performing installations.
Crew
Every project we work on is backed by a specialist signage squad, more than a little obsessed with their craft.
For this project, we had 2 aluminium fabricators, who worked on creating the light box itself, as well as a router operator, 2 spray painters, 2 vinyl installers and an electrician.
Fabrication  took 3 weeks to complete with installation happening over 48 hours. The install required a crane operator, 4 doggman and 3 abseilers.
Once again, our fantastic team put their skills to work and finished the job within the agreed timeline and according to budget.
Interesting facts
We like to think all the jobs we do are brimming with interesting facts! (People at barbeques say otherwise.) But truth be told, every project we work on has something unique or special about it.
With this one, location had a big impact on specifications, since the Perth Airport maintains explicit guidelines relating to illumination, size and location.
Working within the parameters of local Councils and other bodies is something we take in our stride, so these considerations made no difference to the project's success.
Another cool aspect of the lightbox signage was, well, the lights. All in all, there were a whopping 1,000 LEDs installed, which made for a stunning effect.
That's a wrap!
Creating signage solutions for clients all over WA is what we love. We'd like to thank Weir Minerals for engaging us – it was a pleasure working with you.
If you need signage for your business, please get in touch to discuss your requirements.
We have the capabilities to design, fabricate and install a range of signage, from lightboxes, pylons, wayfinding signage and banners to vehicle wraps, digital displays and much more.
If you're not sure what you need, our experts can offer affordable signage recommendations that best suit your location, branding and business.