If you're on the road for your business, chances are you've thought about the possibility of branding your vehicle. But is advertising on your car really a worthwhile expenditure? We've taken time out to discuss the ins and outs of using your vehicle as signage for your business.
The pros of vehicle wraps
Before we head any further into this blog, we need to come clean. We are really big fans of vehicle wraps, and for good reason.
They look professional – so long as you go with a quality vehicle wrap supplier, and use someone who knows how to correctly apply the wrap.
They increase your visibility – potential clients see you en route to jobs, which boosts brand awareness for your business.
They're relatively cheap – the cost of making and applying the wraps is surprisingly affordable, and they last for many years (at least ours do!).
They're effective – as your vehicle becomes a 24-hour moving billboard for your business. Once applied, there are no ongoing costs.
The cons of vehicle wraps
Okay, we can't write a list of pros without playing devil's advocate. So here are our thoughts on the cons of vehicle wraps:
Driving skills – it's important to ensure your staff adhere to road rules and act responsibly. This is primarily for safety, but also because they're now representing your business more than ever.
Design – it's vital that you employ a trained designer to create the artwork for your vehicle wrap. This extra cost will make all the difference to the effectiveness of your vehicle wrap. (We can assist you with this, if you need a designer.)
Information – it's important that you include just the right amount of written content on your vehicle wrap, such as your website, email and a short overview of what you do. That way when people see your car, they know what you're about.
What do vehicle wraps cost?
The cost of a vehicle wrap is surprisingly affordable, as we have the capabilities to design and manufacture vinyl wraps in-house. As a result, our clients receive professional looking branding on their vehicle or fleet that won't break their budget.
Of course, we also make sure the vinyl we use is top quality, which means it can withstand the harsh sunshine Western Australia is known for. And, our technicians know how to affix the wrap, so it looks sleek and professional.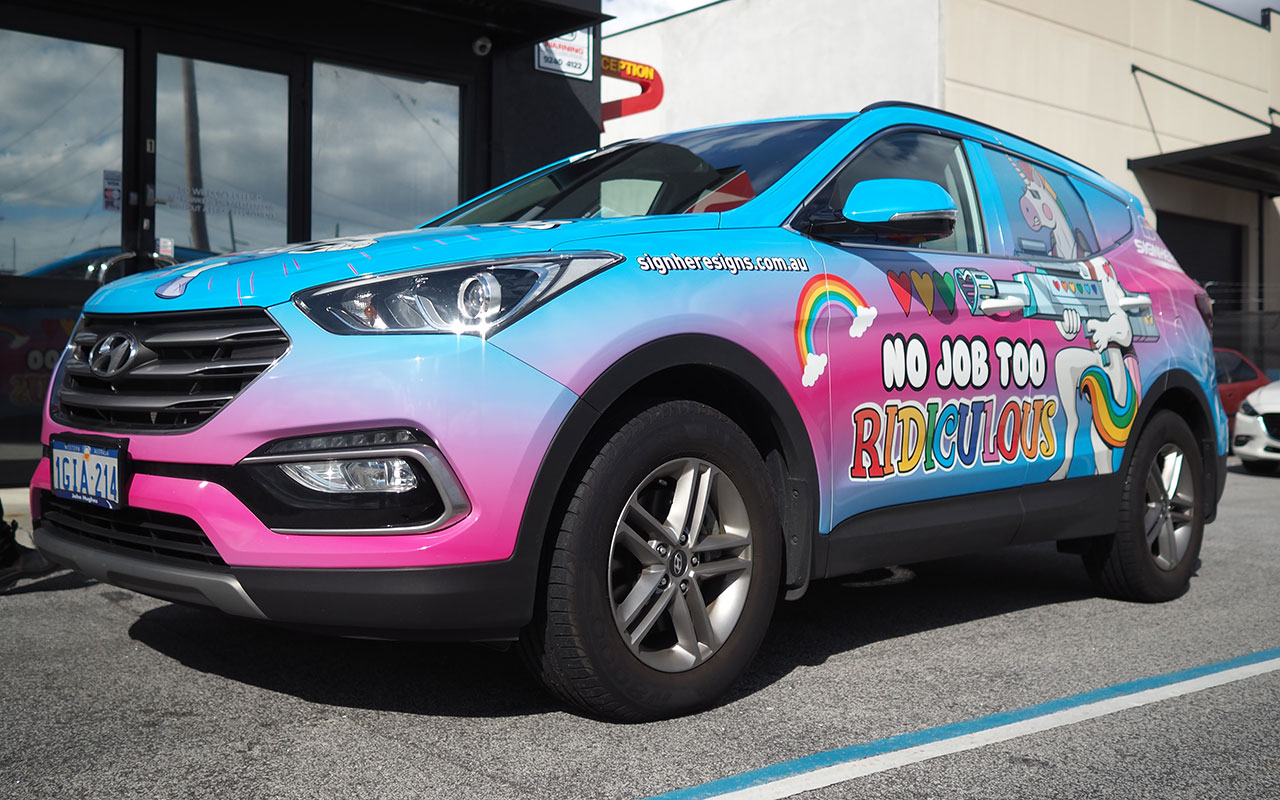 Looking to dress up your car?
Talk to us about branding your vehicle or fleet with a quality-made vehicle wrap. You're also welcome to visit us in Malaga and see our own wrapped vehicles first hand. Our boss even drives a car wrapped as a unicorn, and we can vouch for the fact it turns heads and helps people remember us!